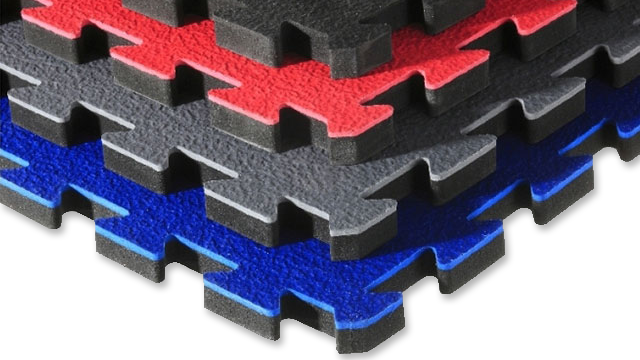 Cushioned Activity & Gym Tiles
Active-Flex is an interlocking, multi-layer cushioned fitness floor tile perfectly suited to fitness suites and gyms with a focus on floor exercises and light weights training, such as kettlebells and dumbbells.
The 5mm surface layer is a specially formulated rubber and synthetic mix which provides a fully non-porous surface for easy and hygienic cleaning. The surface also has a textured anti-slip finish.
The 15mm high density backing is designed to help absorb any impacts with the surface to prevent muscle strain and reduce the risk of injuries.
Each tile is 1m x 1m and 20mm in thickness with interlocking edges for easy installation and at only 5.3kg per tile they can easily be lifted and stored when not required. Active-Flex can also be combined with our Multi-Flex tiles to create different activity zones.
The tiles are available in Black, Grey, Blue or Red and bevelled edges and corner blocks are available, in matching or contrasting colours, to create a safe, smart finish.
BENEFITS OF ACTIVE-FLEX
Non-porous, anti-slip surface
Impact absorbing backing
Fully interlocking
Can be combined with Multi-Flex tiles
Bevelled edges and corner blocks are available
Available in a choice of colours
Available in a range of colours