FREE Competition Basketballs For Your Sports Centre
The Official Partnership with Basketball England allows DYNAMIK to donate competition basketballs for use in sports centres across the UK.
Wilson – the world famous and Official Ball Supplier to Basketball England has designed and created a fantastic new basketball in collaboration with DYNAMIK. You can claim your FREE competition basketballs with every DYNAMIK order*.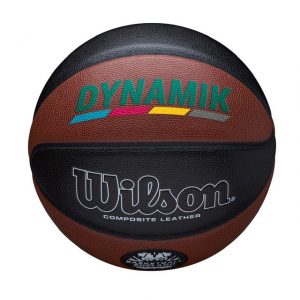 DYNAMIK not only supply and install new sprung sports floors in a range of playing surfaces with bespoke line marking, but as part of their ongoing service they also provide solutions for floor protection and refurbishment of your existing floor.
The completion of your new sports floor is just a part of its story and we appreciate that maintenance and aftercare is an essential part of running a facility and your Sports Hall is likely to experience high usage over its lifetime. Complementary products for a full sports facilities package include DYNAMIK Acoustic Sports Wall panels and DYNAMIK Track & Gym flooring solutions.
DYNAMIK has worked with leading schools, universities and leisure centres across the UK. In summary our services include:
Indoor Sports Flooring
Line Marking
Track & Gym Flooring
Acoustic Sports Wall Panels
Sports Floor Protection
Floor Maintenance Solutions
Contact us today to speak with our expert team about what YOUR project needs. Then place your order to claim your FREE Wilson competition basketballs*.
Click here to send your enquiry.
#Basketballs #DYNAMIKsport #BasketballEngland #SportsFloors #Wilson
*Subject to Terms & Conditions.