Safety and performance are the most important considerations when choosing netball or multi-use sports hall flooring.
For indoor netball courts, sprung systems are the best option, they're long-lasting and provide excellent comfort and support for players. With over 25 years' experience of supporting British Sport, DYNAMIK offer the expertise required in choosing the right sprung system and playing surface to meet clients' individual requirements. We offer a full range of sports flooring options to suit all levels of netball, from community use through to international level. Whatsmore, all of our sports floors comply with the latest regulations and standards.
DYNAMIK sports floors are an ideal choice for leisure centres, multi-use community halls, school and university sports halls, or arenas.

Official Partner to England Netball
As the appointed Official Indoor Sports Flooring Partner to England Netball, DYNAMIK are leading UK experts for the supply and installation of indoor netball court flooring. With over 25 years' experience supporting British Sport, DYNAMIK will provide the best solution for your indoor netball court.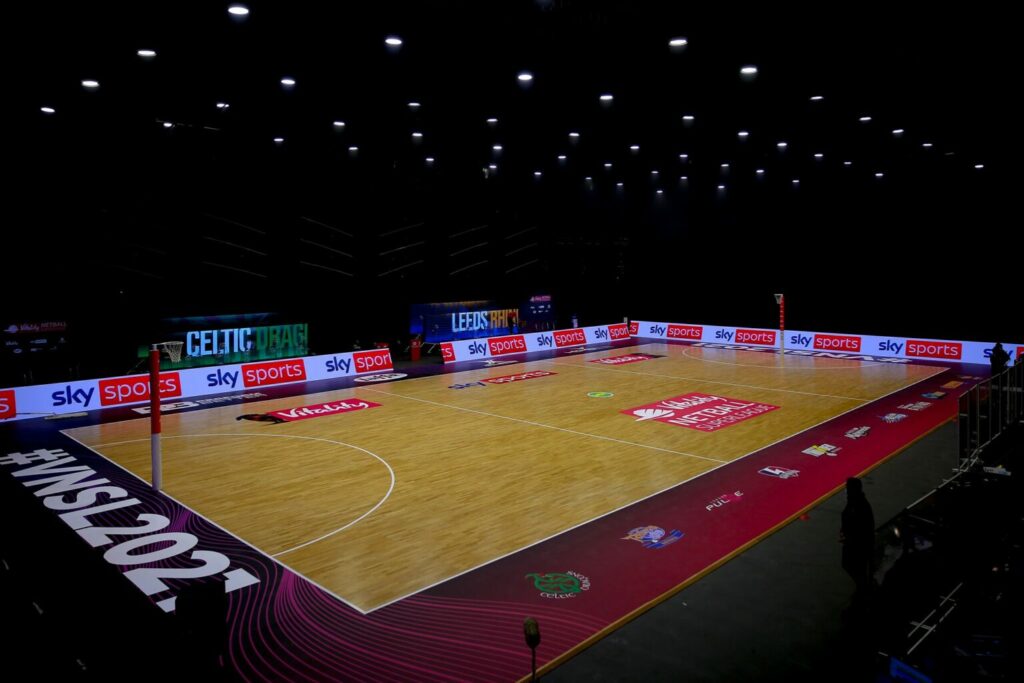 Temporary Netball Courts
We offer temporary netball court solutions that match the high standards of our fixed timber or synthetic sports flooring options.
For sports arenas and halls that cater for a wide variety of sports, the DYNAMIK Portable Court is an excellent solution. Portable sprung oak or Roll-out vinyl courts create a high-performance sports surface suitable for events where single line marking, bespoke court colour designs, or branding, are a requirement.
Bespoke Netball Court Design
DYNAMIK offer a full range of bespoke court designs for your court. From a simple school logo or welcome message, to a multi-zone stained or painted court that highlights surrounds, goal or centre circles.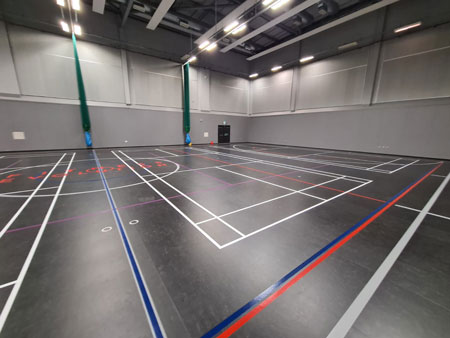 Why choose a Sprung Synthetic Surface over a Timber Surface for your Netball Court?
Commonly in the past, the usual go-to surface within a sports hall was solid timber. With advances in technology and material science the sports industry has seen a significant move towards premium engineered timber, or sprung systems finished in solid (non foam-backed) playing surfaces.
DYNAMIK offer a full range of sports floor systems including premium engineered sports timber, sport linoleum, sport vinyl and seamless polyurethane (PU). Therefore we have no bias to any one particular playing surface. What we have seen, however, is an ever increasing trend towards solid synthetic surfaces, installed onto our Athen or Flexi-Beam Plus sprung systems. This is especially in light of the latest ESFA requirements.

Sports Performance and Synthetic Surface
There is absolutely no compromise in sports performance between a sprung sports floor finished in timber playing surface, or a synthetic playing surface such as solid Sports Linoleum. Sprung systems such as our Athen or Flexi-Beam Plus, when finished with a solid synthetic playing surface, still incorporate all the performance benefits of timber in their sub-construction. Moreover, it's interesting to note that the majority of European countries install synthetic surfaces such as solid linoleum or vinyl onto a sprung wooden undercarriage in most of their multi-use, community sports facilities. Find out more about Sprung Timber vs Sprung Synthetic Playing Surfaces.
A Case Study
DYNAMIK were specified for the new sports hall flooring system at Badminton School for a variety of reasons including their expertise in sprung sports flooring.
"I am so pleased with the floor already and was keen for the school to have the best playing surface. I've got so many plans for tournaments, team games and matches."
Clare Elsley, Assistant Director of Sport, Badminton School.
Les Palmer – Estates Manager at Badminton School said, "It was important for us to get the best sports floor that would be lower maintenance than a wooden floor."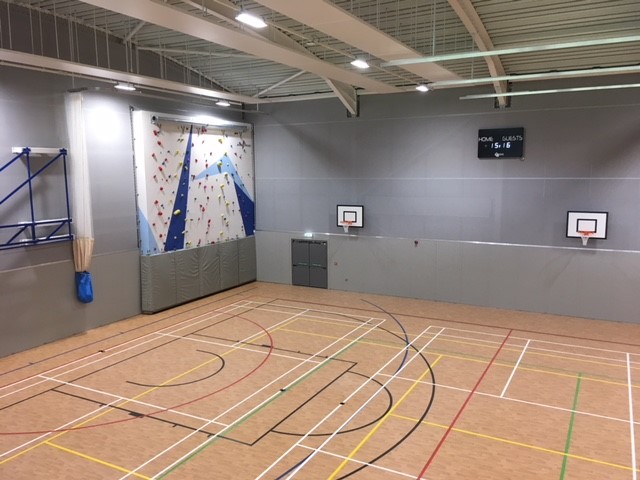 DYNAMIK can offer sports flooring solutions for all levels and budgets.