Safety and comfort are the most important considerations when choosing dance studio flooring.
For dance floors, fully sprung A4 area elastic systems are recommended and are the best solution as they provide high levels of performance and comfort, ideal for dance and activity. DYNAMIK offer a full range of dance flooring options to suit all ages and abilities, from timber to high comfort based vinyl providing durability and safe slip resistance.
Sports Performance and Synthetic Surface
There is absolutely no compromise in performance between a fully sprung A4 dance floor finished in a timber playing surface, or a synthetic playing surface such as a vinyl. Sprung systems such as our Athen, when finished with a solid synthetic playing surface, still incorporate all the performance benefits of timber in their sub-construction. Find out more about Sprung Timber vs Sprung Synthetic Playing Surfaces.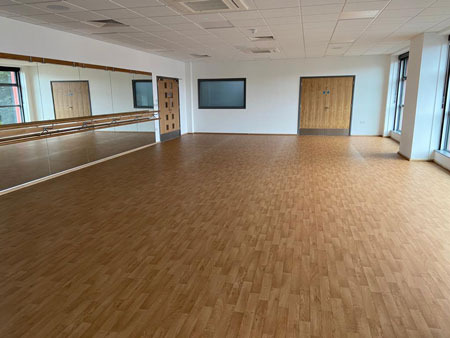 DYNAMIK can offer dance flooring and multi-purpose flooring solutions for all levels and budgets.