With more than 130 sports floors installed each year, DYNAMIK are one of the leading suppliers and installers of sprung sports flooring for sports arenas.
Durability and high performance are important characteristics when considering arena sports flooring. With over 25 years' experience of supporting British Sport, we offer the expertise required in choosing the correct sprung system and playing surface, to meet your individual requirements.
Our projects range from new build sports halls, state-of-the-art, high-performance sports arenas, to the refurbishment or replacement of existing old timber or vinyl playing surfaces.
Sports Flooring for Arenas
Arenas are large scale sports facilities, often provided in a University or high-performance sport specific environment, since they combine the use of the facility by students, the general public, along with high-performance athletes.
Universities often hire their facilities or make available for significant sporting or non-sporting events such as concerts, graduation ceremonies, or large-scale community events.
A few of the recent Arena Installations DYNAMIK have completed:
National Basketball Performance Centre, Manchester
Derby Arena
Leicester Arena
Newcastle Eagles Arena
Sheffield Indoor Sports Arena
National Indoor Athletics Arena, Cardiff
University of Essex Sports Arena
University of Bath
University of East London (UEL)
University of Worcester Arena
University of Cambridge Sports Arena
Southampton Solent University Arena
Typically such sports flooring installations include a number of different floor areas which need to meet exacting requirements for sporting and non-sporting usage.
Bleacher Fixed or Flexible Seating
Bleacher seating units impose high loadings on a sports floor, both distributed and rolling loads, and accordingly the systems need to be strengthened in the area where the units are parked and under the wheel runs – this is known as bleacher blocking. If the seating is mobile or flexible, it is likely that the complete sports floor will need to incorporate additional beams or support, to take the additional loading.


Careful choice of seating units is essential to ensure that a good number of high quality wheels are used to distribute the point loading in order to avoid damage to the playing surface.

We would recommend our DYNAMIK Sprung Timber Systems where bleacher seating is to be incorporated into a sports arena.
Meeting Requirements
Sports arenas often need to meet the requirements of a particular national, or international governing body. DYNAMIK understand this, and provide certified sprung systems to comply with the latest indoor sports flooring requirements.
A Case Study
For their sports arena, Essex University chose to install the Komfort Elite Sprung System, finished in a engineered premium sports oak, which was selected as the best solution for high-performance sport and non-sporting usage. Find out more.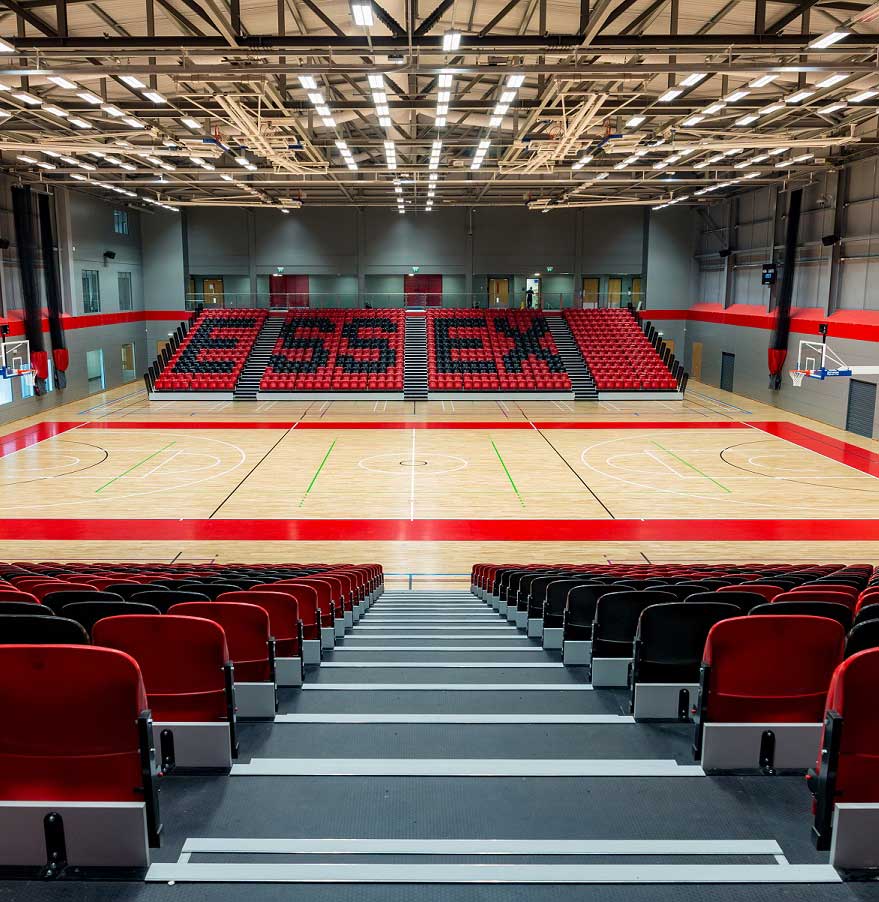 DYNAMIK can offer indoor sports flooring solutions for all levels and budgets.