Tarkett and DYNAMIK collaborate to transform an old timber court.
Tarkett and DYNAMIK transformed an old gappy and damaged timber court as part of their Official UK Sports Flooring Collaboration.
All Saints Roman Catholic School in York called "time out" on their old court by upgraded to a new DYNAMIK court that does not require sanding 9 times throughout its life or protecting during non-sporting events such as exams or school shows. The school are looking forward to saving lifecycle costs by not having to re-lacquer or sand the court, which will benefit from the smooth, gap free, Tarkett sports linoleum playing surface.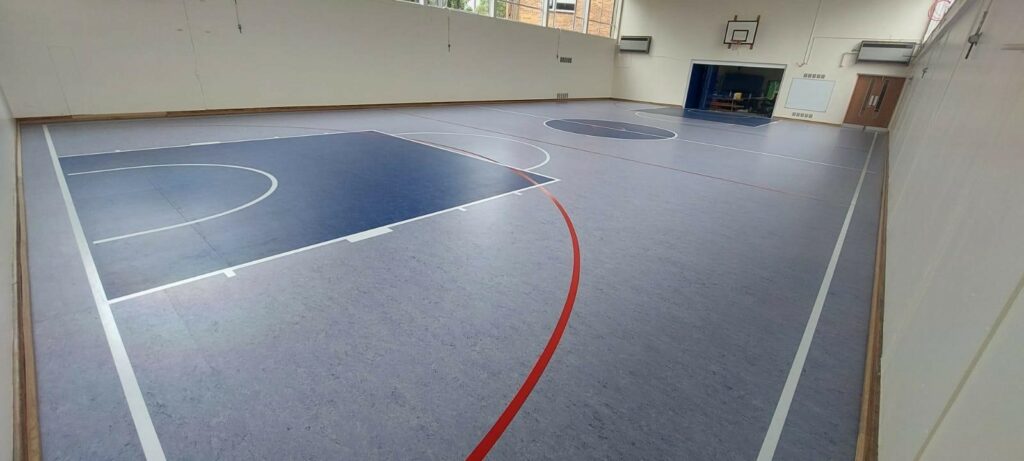 The sprung DYNAMIK floor was finished in a solid, non-foam backed Tarkett sports linoleum, which provides enviable levels of durability and indentation resistance as well as meeting all the required sports performance standards for a multi-sport environment.
This particular court has a basketball focus and has had the DYNAMIK be-spoke court design approach which highlights the centre circle and key zones in contrasting colours. The court also has netball line marking incorporated into the basketball perimeter lines making the court look visually uncluttered and clear.
DYNAMIK offer the bespoke court approach to all schools or facilities that wish to create something special, or that "Home Court" feel for students and community users alike. Craig Jack of DYNAMIK commented on the court transformation:
" Having seen first-hand the bad condition of the old timber floor, I'm really pleased they chose the Tarkett Sports Linoleum playing surface option as it really does look fantastic". "For such a small hall, it really does feel like a state-of-the-art sporting space rather than a forgotten space used only when the full-size sport hall is not available. Now it really is the place to be seen."