Basketball Wales Name DYNAMIK as Their Official Sports Flooring Partners in a Multi-Year Agreement.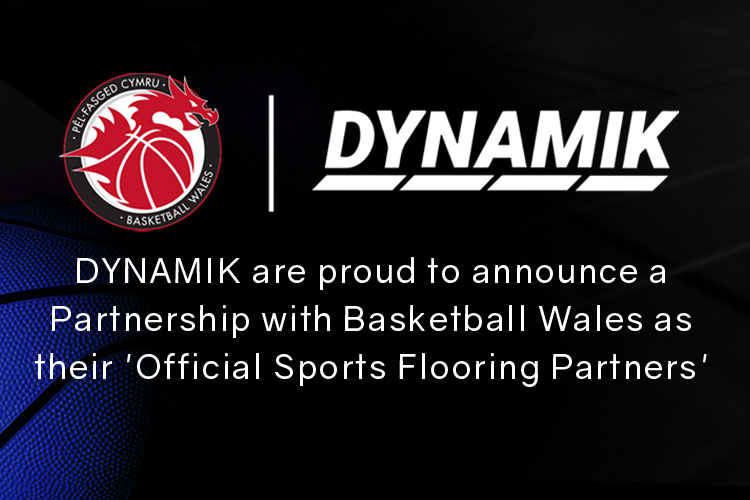 DYNAMIK, leading UK indoor sports flooring specialists, have been appointed the official sports flooring partner to Basketball Wales for the next 5 years.
Commenting on this partnership, Basketball Wales CEO Gavin Williams said, 'We are excited to be entering into this partnership with DYNAMIK. We hold in high regard the benefits of this collaboration. DYNAMIK`s vast technical expertise in sports flooring is second to none, and the quality of their services and products are unrivalled. This is an extremely positive move forward to help further build on the successes of Welsh basketball.'
Craig Jack, Commercial Director for DYNAMIK Sport commented "Welcoming Basketball Wales to our family of NGB partners is something we are all extremely proud of". Our team at DYNAMIK know how important it is to provide sporting NGBs, clubs, schools and leisure facilities with trusted advice on sports flooring installation and maintenance and aftercare".
The partnership will ensure that there is dedicated and tailored support for the basketball community in Wales that includes advice on maintenance and facility standards. To strengthen
the increasing popularity and  participation of basketball in Wales, DYNAMIK will also be investing in the Welsh Schools National Tournament from September 2020, and the Annual National Awards event commencing August 2021.
Photo left to right: Gavin Williams – CEO Basketball Wales, Stef Collins – Basketball Wales Performance Director Women/Girls, Craig Jack – DYNAMIK Commercial Director, James Dawe – Basketball Wales Senior Men's Captain, Richard Lawrence  – Sport Wales Liaison Officer. Location: The Senedd, Cardiff Wales