DYNAMIK Encourages Young People To Play Basketball
As part of DYNAMIK Sport's ongoing commitment to Basketball at all levels, Craig Jack met with some of the team at Inspire Youth Zone in Bolton to donate basketballs for use by Inspire's members.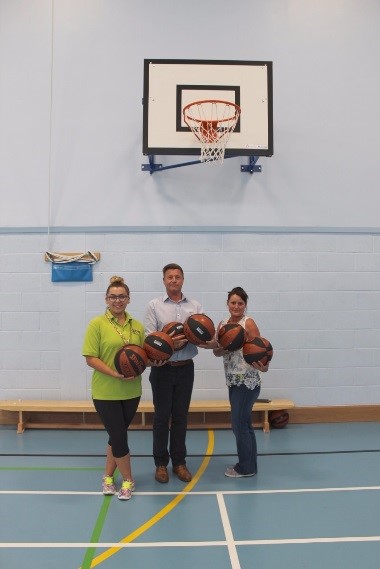 Inspire Youth Zone has gained interest from HRH Prince Harry, the Duke of Sussex and other high profile supporters who realise the importance of giving young people somewhere safe to spend their leisure time. The ethos of each Youth Zone is to provide all local young people aged up to 25 affordable access to high-quality sports, seven days a week, 52 weeks a year.
Amelia Hanson, Communications Coordinator for OnSide Youth Zones said, "Sport is a huge part of our offer here at Inspire Youth Zone, the sports hall is used from the moment we open our doors until the moment we close. Thank you to DYNAMIK for donating basketballs, as one of our favourite sports – we know they will be put to great use by our members!"
Closer to home near the DYNAMIK Head Office, Avonmouth C of E Primary School were delighted with their donated basketballs for the school children. They commented:
"Great to see children playing ball games at lunchtimes – these will be put to good use by all our budding basketball players."
DYNAMIK offer sports flooring and acoustic walling solutions to schools, universities and leisure centres across the UK. Contact us at info@dynamiksport.co.uk.
Highlights on YouTube: HRH the Duke of Sussex opens London's first OnSide Youth Zone
@OnsideYZ #everyyoungpersoncan #SportForAll #Basketball #DYNAMIKsport