DYNAMIK Rejuvenation For YOUR Sports Floor
DYNAMIK offer a full range of sports flooring solutions including refurbishment of your existing floor. This essential part of maintenance can be overlooked when your floor is in constant use.
Our in-house line marking service ensures your courts are compliant with Sport England guidance.
The DYNAMIK Maintenance Team completed a sand and reseal, at the English Institute of Sport in Sheffield, followed by re-line marking. The two photographs of the floor (before and after) show the sanded floor in preparation for the reseal and re-line marking of their three court hall. This process is carried out by our expert teams to ensure the floor is compliant and ensuring its continued optimum use for many years.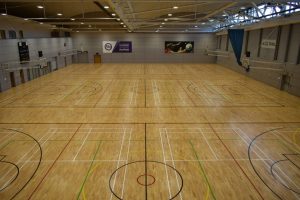 As well as undertaking refurbishment projects such as this, DYNAMIK manufacture and install new sports flooring, acoustic sports walling, track and gym solutions and giant carpet tile protection.
DYNAMIK provide free of charge quotations and site surveys which are carried out if your facility is looking to upgrade or maintain their sports flooring.
Contact us for more information on how DYNAMIK can help you.
#DYNAMIKsport #SportsFlooring #Refurbishment #Sport