Mansfield Rugby Club Upgrade From Point Elastic To Dynamik Sprung Sports Floor
As well as being the training centre for all of Mansfield's junior and senior teams, the rugby club's sports hall is a pivotal facility for local community events.
The delicate nature of their old point elastic surface however often limited what events the facility could host as the surface was susceptible to damage from equipment, tables and chairs. The club therefore made the commercial decision to upgrade the old floor to a more durable sprung system that would allow them to host a wider variety of events, as stated in the open letter below by the club chairman, Andy Foster:
Dear Supporter/Member,
As you are aware, at the club we have a brilliant facility in the shape of the Sports Hall which unfortunately, due to the sponge mat flooring, is very limited as to what we can do with it commercially. Consequently there are a variety of social events that we are unable to accommodate in the sports hall such as shows, festivals and concerts. As a result the Hall stands unused for large parts of the year. Therefore our plan is to replace the floor with a multi-purpose surface which will be compliant with modern regulations allowing us to continue hiring the hall out to sports groups for football, badminton and cricket etc. but will also be durable, hard wearing and robust enough to accommodate many different kinds of social events. This will provide the club with a much needed revenue source going forward allowing us to hold or host many more varied events providing income and helping us to improve and maintain the best possible playing and training facilities for rugby that we can.
The system of choice for the facility was our Sport England compliant Sydney system which is designed for fast installation, therefore minimising disruption at the club whilst also being very low profile to avoid any height differential problems at the doorways.
The system was finished in our highly durable Sport Linoleum which not only now allows the facility to host a wider variety of events but the easy, cost effective maintenance throughout the life of the product ensures the club have more funds available in invest in other areas of the facility.
Before Installation
During Installation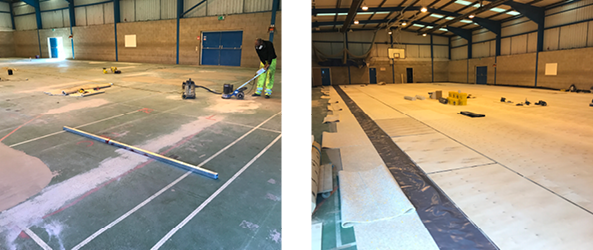 After Installation