Netball World Cup 2019 #NWC2019
The Vitality Roses home squad are set for their first match of the Netball World Cup in Liverpool, England.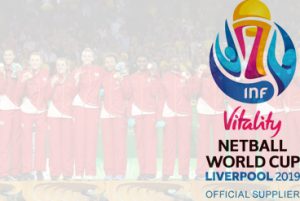 Following on from England's epic gold medal winning moment at the 2018 Commonwealth Games, this is set to be a Netball World Cup to remember.
DYNAMIK has been Official Sports Flooring Partner with England Netball for several years, supporting players with technical advice and expertise on the best sports flooring for their sport.
The famous Copperbox Arena has housed the DYNAMIK portable floor for international matches and most recently the Badminton School's new Sports Centre, where veteran England Netball player Clare Elsey trains, selected a DYNAMIK sprung floor system finished in Tarkett solid sports vinyl in wood effect as their preferred surface.
You can follow the action on Sky Sports and BBC Sport.
#NWC2019 #RosesRising #NetballWorldCup #DYNAMIKsport