New DYNAMIK Athletics Track @ English Institute of Sport
The country's largest multi-sport training centre – the English Institute of Sport in Sheffield – has opened their new indoor athletics track to much excitement. This is yet another prestigious project that highlights DYNAMIK's expertise in this area of sports flooring.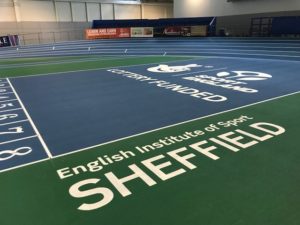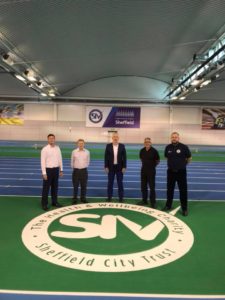 DYNAMIK take a hands-on approach by providing supply and installation of indoor sports flooring across the UK. Craig Jack, Commercial Director for DYNAMIK, attended the opening ceremony in Sheffield:
"The Mondo Track by DYNAMIK in the indoor athletics arena is designed for high performance sport and will provide world class facilities for elite athletes as well as local sports clubs at all levels."
The English Institute of Sport is used by International Athletes and community groups, schools, individuals and clubs. The new indoor track will be offered to pre-school age children to try out different sports up to adult athletics lessons making it a true multi-sport arena. As well as the 200m Indoor Athletics Arena, the English Institute of Sport houses two multi-purpose sports halls, a table tennis hall, a netball hall and a basketball hall.
DYNAMIK work with clients from schools, universities and large arenas as well as contractors, architects and supply chain experts such as MONDO, Sports Labs Ltd & Replay Maintenance with equal expertise and commitment.
DYNAMIK provide free of charge quotations and surveys which are carried out if you are looking to upgrade or maintain your sports facility.
Contact us for more information on how DYNAMIK can help you.
#DYNAMIKsport #SAPCA #Athletics #Sheffield
@eissheff @SL_Consult @ReplayMaintain