Black Prince Trust Case Study
This week we are pleased to announce Dynamik's recent renovation of The Jordan Court floor and replacement of The Regal Court floor in South London.
The infamous facilities, owned by The Black Prince Trust, are situated in The Black Prince Community Hub in Lambeth. The trust is a not-for-profit charity that works with other commercial and charitable organisations to offer sessions and sports programmes for the local community. The Regal & Jordan courts are dedicated, state-of-the-art indoor basketball courts that receive thousands of visitors each year and serve to encourage and facilitate players from beginners through to British Basketball League Athletes.
Dynamik is proud to be chosen to rejuvenate The Jordan Court floor and replace The Regal Court floor by The Black Prince Trust, who are supported by Nike, the NBA and Basketball England.
The Jordan Court
Repairs were carried out to the floor before completing a full sand, reseal and reline mark.
The new court lines also incorporate the Nike Jump Man Logo.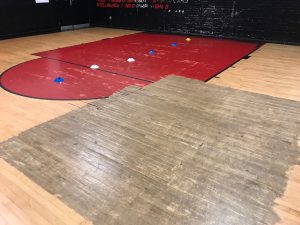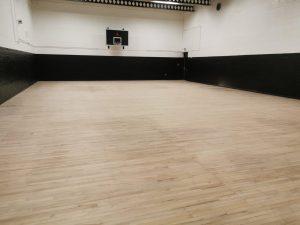 The Regal Court
The Regal Court underwent a larger renovation. As there were a few dead spots around the floor, the decision was made to replace it, and so we uplifted and disposed of the old solid timber surface.
High sports performance, durability and timber stability were key factors going forward, and for this reason we installed our DYNAMIK Flexi-beam Elite sprung floor finished in our 22mm Engineered Oak board.
The new court lines applied allowed for Black Borders and Key Infills emphasising the White Court Lines.
The addition of The Regal and Nike Logos completed the striking layout.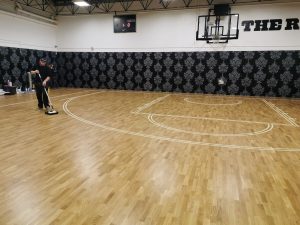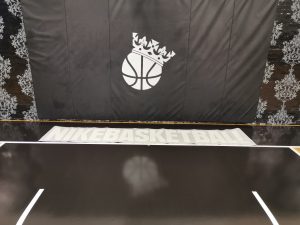 With the flooring works completed and new lines applied, the courts have a fresh look and will be open to the public once more in January 2020.
We are very pleased with the project and have thoroughly enjoyed working with The Black Prince Trust!