No Grey Areas when using a DYNAMIK Sprung Floor
"I would recommend DYNAMIK to anyone looking to design a new sports hall."
Doesn't this grey DYNAMIK playing surface look fantastic!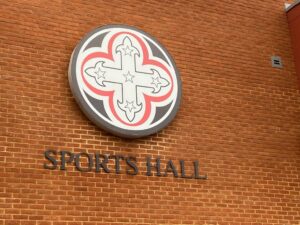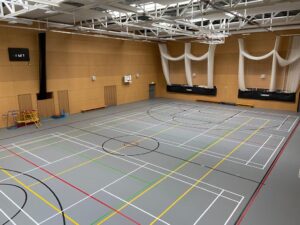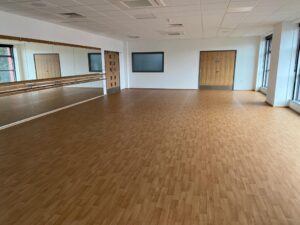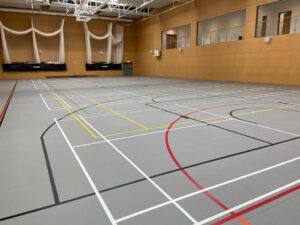 There are no grey areas when highlighting our latest projects. We are proud and confident to highlight not only our products and photos, but we are also more than happy to share our project details for all to see, and if required, to ask for a testimonial – we are that confident.
As a leading British manufacturer of indoor sports flooring and walling solutions, DYNAMIK were chosen to supply the sprung sports and dance flooring, acoustic interior wall panels and carpet tile protection for a prestigious new sports hall at Bishopsgate School, an Independent School based in Englefield Green, Egham.
The DYNAMIK design team worked with architects, main contractor and the school directly to provide a solution that created a single point of contact for floors and walls. The result was a sports hall environment that worked acoustically whilst also meeting the criteria for sports and dance performance.
Due to the school catering for young children (ages 3-13) a comfort-based sprung system was offered. Children which interact with a playing surface during low-impact activities, rather than playing high impact sports, require a safe, high-comfort based sprung system. This type of system provides high levels of shock absorption and can compress under load easily, giving that feeling of comfort that normally is associated with foam backed vinyl or soft pad based surfaces.
The DYNAMIK "Komfort Plus" sprung system, finished in a solid sports vinyl, was chosen as the ideal solution. It provided the sports and dance performance, but also due to its solid, non-foam backed playing surface, was also able to offer high levels of indentation resistance and enhanced long term durability.
Non-sporting school events also needed to be accommodated, therefore the DYNAMIK "Giant Carpet Tiles" were included within the client requirements. When installed, the tiles create an enhanced acoustic benefit and a feeling of luxury in addition to the comfort provided by the DYNAMIK sprung floor.
Craig Jack of DYNAMIK commented:
"Providing a single supplier solution for sports and dance flooring, rebound and acoustic walling as well as giant carpet tile protection, really made sense. It saved consultation time, overall costs and gave the client the continuity and accountability they were after by dealing with as few links in the chain as possible."
Mr Charlie Carver, Bursar of Bishopsgate School, praised the way in which DYNAMIK worked to find the best solution for their sports flooring needs:
'We are very pleased with the results in the new sports hall.  The most important decision when designing a sports hall is the performance made possible by the floor, everything else is there in support. We chose DYNAMIK due to their ability to deliver the required high standards of flooring for both our sporting and dance requirements. Combining this with the sports hall walling means that the acoustics are excellent, allowing two separate sessions to be run simultaneously.  The decision to include the protective carpet tiles means that both the sports hall and the dance studio can be used for teaching, learning and non-sporting events.  I would recommend DYNAMIK to anyone looking to design a new sports hall.'
Contact DYNAMIK today for your sports flooring solution.