Sheffield Sharks Receive DYNAMIK Portable Rollout Court
"it looks absolutely fantastic every time"
It has been almost one year since DYNAMIK Sport and Tarkett became the Official Sports Flooring Partners to the BBL. As part of this new alliance, the companies gifted three lucky BBL Clubs with new DYNAMIK Portable Rollout courts.
One of the recipients to receive a new basketball court was BBL Club the Sheffield Sharks, delivered to their venue at Ponds Forge, in Sheffield. The Sheffield Sharks are a professional basketball that compete in the top tier basketball league, the BBL. The Sharks are one of the most decorated teams in BBL history, boasting 14 different league titles.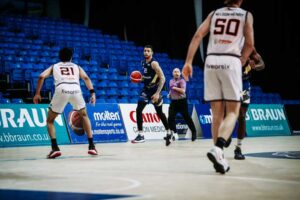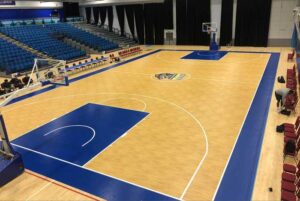 Managing director of the Sheffield Sharks, Sarah Bachovic, had a few words to say about how much the support from Tarkett and DYNAMIK – the Sports Flooring Collaboration – has helped the club this past year.
"The court has improved both the aesthetic and single-line requirement of our venue at Ponds Forge, the quality of the court ensures that we are able to easily transfer the configurations as and when required. The laying and storage of the floor is done with relative ease and it looks absolutely fantastic every time."
Shaz Hawkins, Segment Marketing Manager, Tarkett UK
"We're thrilled to be working with DYNAMIK, together we can provide a complete sports flooring solution to the BBL and its Clubs.  It's great to hear Sarah's feedback, the positive impact the court has had and the benefits it is bringing to the Club ."  
Craig Jack, Commercial Director of DYNAMIK Sport, has this to say:
"It's great to be able to support the BBL and the three lucky clubs in collaboration with Tarkett, not only with a playing surface, but also a complete solution from of court design –  such as logos, painted surrounds and keys – through to the much-needed installation training."