Sports Hall Floor Renovation at Fulneck School
Transform your old Timber floor with a DYNAMIK bespoke court makeover. 
One of DYNAMIK's first projects of 2021 was at Fulneck Independent School in Pudsey, West Yorkshire.
Before Fulneck School sought the help of DYNANIK Sport, their school sports hall floor had an old timber surface in much need of some board repairs and a full sand and re-seal. They were looking for a new and improved sports surface to freshen up the school hall and transform their indoor space without floor board gaps or the need to sand and seal in the future.  As the hall was used intensively for both sporting and non-sporting activities, they needed a playing surface that was solid, without foam or pad backing and a surface that did not require the use of giant carpet-tile protection to avoid indentation or point load damage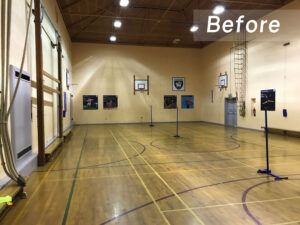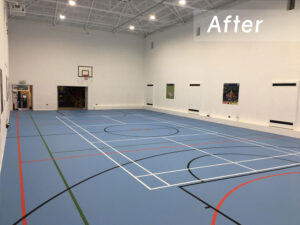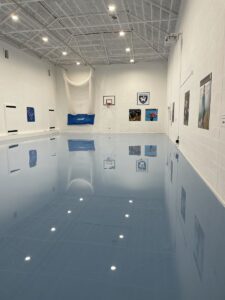 DYNAMIK's Solution
For this reason, DYNAMIK overlaid the old timber school sports floor with a Herculan seamless Polyethylene (PU) playing surface. We advocate the benefits of solid synthetic surfaces for exceptional durability, high resistance to indentation and the clean look of a seamless installation, which in the case of Fulneck School, was far more suitable and a big improvement than their old timber floor.
Why choose a Solid Seamless Polyurethane (PU) for your Sports Floor?
When combined with a DYNAMIK sprung A3 or A4 area elastic undercarriage or base there are several reasons for selecting a solid seamless polyurethane (PU) synthetic surface:
Clean, tactile, seamless finish with a bright modern look.
Highly resistant to spillages as the surface is seamless without gaps and non-absorbent.
No foam or pad backing ideal for non-sporting activities and equipment. usage.
Lower life-cycle maintenance costs and easy  to clean or spot repair.
Lower life-cycle costs as no need for frequent sanding, sealing or re-lacquering.
Surface protection  not required for non-sport usage
Results
Since the project's completion, the school are very pleased with the results. Ryan Walker, Director of Sport at Fulneck School, had this to say:
"We have been so excited about having new flooring in the East Gym to enhance and develop our indoor sports facilities at Fulneck School. The new DYNAMIK flooring has really transformed our indoor space. It is now a first-class facility and all students at Fulneck School will really benefit from using it when we return".
Overall it was a great project to work on, the school are "delighted" with the new sports flooring and the way the DYNAMIK team supported us from the initial design, ideas stage through to the final installation, was second to none.
Craig Jack from DYNAMIK commented, "We were thrilled to have been chosen to provide Fulneck School with a solution led specification that transformed their existing sport court into something so spectacular and fresh. The school trusted DYNAMIK to provide something special whilst considering all other important factors such as budget, performance, long-term surface durability and sports floor maintenance life cycle costings. All in all, another great project for DYNAMIK to be involved in.
DYNAMIK provide supply and install quotations and sports flooring proposals and are always happy to visit site to take a look to see exactly what you have and hear exactly what you would like to achieve with your sports hall refurbishment.
Contact us directly to arrange a member of the DYNAMIK team to visit your facility or call our customer support team for detailed advice on all things sports or gym flooring related.
For more information on our services contact us today