Village Hall Receives DYNAMIK Flooring Restoration
This week we are pleased to announce DYNAMIK'S recent floor renovation of Ashby St Legers Village Hall. We at DYNAMIK not only help maintain British sport but also pride ourselves on restoring and maintaining some of the UKs most historic village hall floors.
The charming village of Ashby St Ledgers, situated inside the south-west boundary of Northamptonshire, boasts some beautiful architecture, with thatched cottages and many buildings crafted in the local warm-toned ironstone.
At the heart of the village stands Ashby Manor, a beautiful Jacobean mansion that was home to the Catesby family for many years. The house is also famed for being a location for the planning of the Gunpowder plot in 1605. At the far end of the village from the church is a beautiful set of thatched cottages built by the celebrated architect Edwin Lutyens.
The social hub of the village though is the village hall, used by the local community for keep-fit circuit classes, weddings, birthdays, burns night celebrations, and summer events, making it a true community multi-use venue for all to use.
The floor was badly damaged, scratched, uneven and very dark due to the build-up of years of varnish and grime but now with the DYNAMIK restoration, sand and re-seal treatment, it looks fantastic and ready to last way into the future.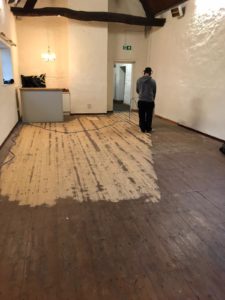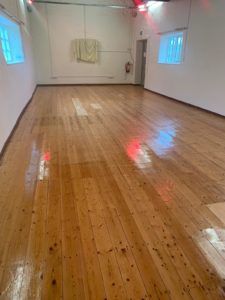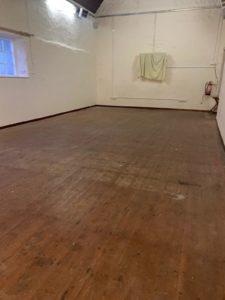 DYNAMIK maintenance and aftercare department are able to provide expert advice on all things flooring. Be it sports hall to village hall – DYNAMIK are here to help.