Wow Factor at the DYNAMIK Schools Championships 2018
Many great memories were made at the DYNAMIK Schools Basketball Championships 2018 with teams experiencing the best in basketball facilities at the National Performance Basketball Centre in Manchester.
Friday saw the energy build with schools across the country taking part in the U12s Celebration Day through to a full weekend of the DYNAMIK National Basketball Finals.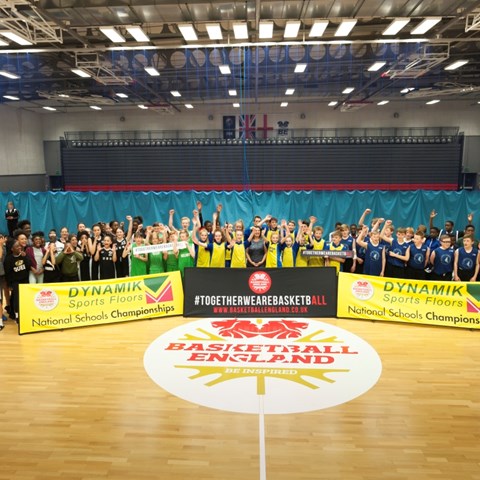 DYNAMIK installed the purpose built sprung flooring at Belle Vue Sports Village which is home to Basketball England, the National Governing Body for Basketball in England.
 As their Official Sports Flooring Partner, DYNAMIK has contributed to grass roots sport in terms of gifting sports equipment to local schools and basketball clubs as well as being headline sponsors of the National Schools Basketball Championships, donating winners t-shirts, medals and plaques.
David Butler, Delivery Director at Basketball England said, "This event is a great opportunity for schools and players to come to this fantastic facility and it really shows the breadth of school's basketball across the country. With teams from Torquay through to Harrogate, it's great to see so many children playing the game and enjoying themselves."
 You can view more of the action on the Basketball England website featuring all the teams that made it to the Finals.
Coaches and teams were delighted to have played on a sports floor where professional athletes train and winners are made.
"It was amazing when we walked in and there were gasps of wow! These events are fantastic for this age group to give them an opportunity to see what is available as they progress in the sport."
Dan Hildreth, Head Coach at Holy Trinity School in Sussex.
"It's incredible to be in the same environment where GB athletes train. The students can develop their skills and knowledge of the game, building confidence as a team."
Hannah Wallace, Head Coach at Bristol Metropolitan Academy.
DYNAMIK excel in providing the best solutions and provide free of charge quotations and school surveys which are carried out if a school is looking to upgrade or maintain their sports flooring.
Contact us for more information on how we can help you.
#DYNAMIKSport #SportsFloor #TogetherWeAreBasketbALL