DYNAMIK Launches Its Latest Product, The Multi-Flex Premium Rubber Tile
Is it time to revamp your gym space?
Looking for quality rubber tiles for your new home gym?
Want to ensure the highest safety and hygiene standards?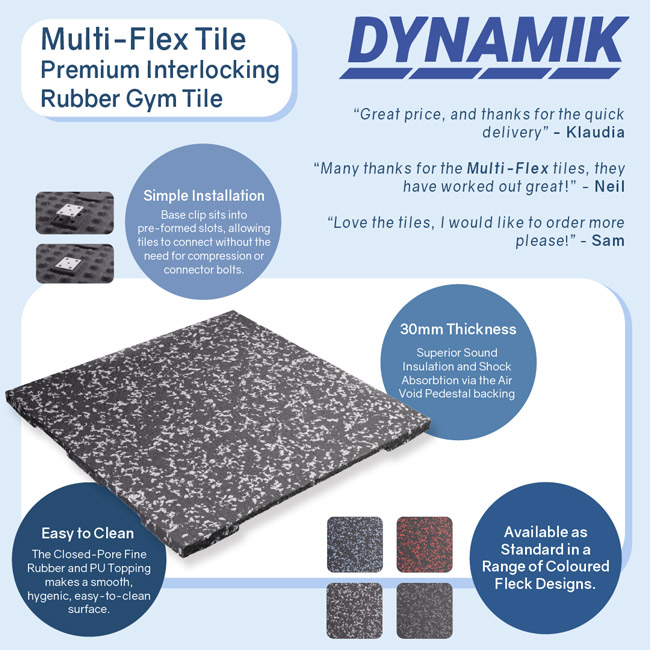 DYNAMIK's Multi-Flex interlocking premium rubber tiles are perfectly suited to fitness suites and home gyms with weight training and CrossFit areas.
The tiles are designed and engineered to be easily and quickly installed, providing clients with  maximum comfort, durability and functionality.
The Multi-Flex tiles have a smooth, ground rubber closed pore top surface rather than an open texture SBR rubber crumb, porous surface. This new design is an advantage for hygiene and cleaning as the tiles are smooth rather than open pore.
The tiles are available in a range of coloured flecks on a black background as standard. Our clients prefer to have a fleck design rather than a plain black tile as it looks more visually pleasing in a home gym or fitness environment.
At 30mm thick, the tiles provide superior sound insulation and shock absorption, making them an ideal solution for those areas where impact sound reduction and screed or slab protection may be a requirement.
The Multi-Flex tiles have an air void pedestal backing which not only absorbs impact from weights, but also provides a comfort-based tile for circuits or floor exercises.
Leading UK providers of indoor sports flooring and official partners to Basketball England, England Netball, British Wheelchair Basketball and the British Basketball League (BBL).
 Our Full Range of Track and Gym Products