Giving Elham Village Hall the DYNAMIK touch
"Our hall floor is now restored to its former glory and we are absolutely delighted with the result. If you are thinking of having work carried out on your hall floor – we can thoroughly recommend DYNAMIK from beginning to end" – Jan Stanyon. Chairman, Elham Village Hall
Some great before and after photos of DYNAMIK's latest project at Elham Village Hall, where the old timber floor received a sanding & lacquer re-seal.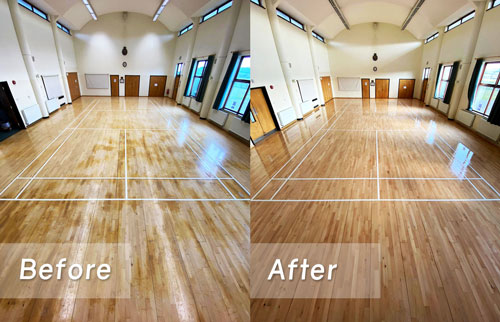 Great to see the floor now looking as good as new, ready for use by the local community!
Testimony
Jan Stayton, Chairman of Elham Village Hall, spoke about the project:
"We obtained three quotes for the work, one of which was from DYNAMIK. DYNAMIK was, in our view, the best value for money. Jolene, our contact was helpful, efficient and ready to answer any queries that we had. The work started promptly and the DYNAMIK Operatives worked their magic in super quick time and, as you can see from the photographs did a splendid job!"
Using DYNAMIK's Aftercare and Maintenance services is an excellent way to ensure that your sports floor remains safe, durable and playing at its very best.