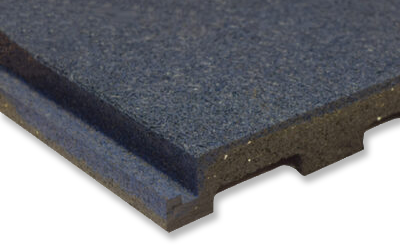 Free Weights Rubber Gym Tiles
The DYNAMIK Gym-Flex tiles are an interlocking premium heavy impact flooring system perfectly suited to high-use fitness spaces and gyms with specialist or personal training areas. This acoustically engineered recycled rubber system with anti-vibration properties is designed to maximise comfort, durability, functionality and visual appearance.
The 32mm thick tiles provide superior anti-vibration and impact shock-absorption making them an ideal solution for personal training areas where acoustic reduction and sub-floor protection is required e.g. first floor gyms or fitness suites. The Gym-Flex tiles combine cushioning shock pads to help prevent muscle and joint injuries. Ideal for use with kettle bells, dumb bells, free weights, fitness machine areas and cardio studio environments.
Construction
Gym-Flex tiles are constructed using 121 evenly distributed pedestals per tile, creating pockets of air space for a functional anti-vibration effect.
They are interlocking for quick & easy installation using no adhesive, making them either a temporary or durable permanent solution. The Gym-Flex tiles can be combined with a variety of high performance levelling systems which provide facilities with a level multi-finish solution as well as reducing impact vibration, structure-borne vibration and airborne sound transmission. DYNAMIK offer free acoustic flooring design specifications to enable to best sports and gym solution.
The tiles can also be installed over cables and with ramps to provide access to wheelchair users.
Accessories
Gym-Flex ramps can be installed wherever the adjacent floor is lower than the mats, providing accessibility onto the surface for all participants, including wheelchairs. Ramps also enable the mats to be installed onto only a section of the floor instead of wall to wall coverage.
GYM-FLEX BENEFITS
Superior acoustic & vibration reduction
High shock & impact absorption
Olympic Lifting area
Hides all cables from gym equipment
Manufactured with 100% recycled rubber
Temporary or permanent flooring solution
Can be combined with levelling systems
No adhesive required
Available in a choice of colours

GYM-FLEX DOWNLOADS