Sports Floor Refurbishment Services
Sports Flooring Refurbishment Services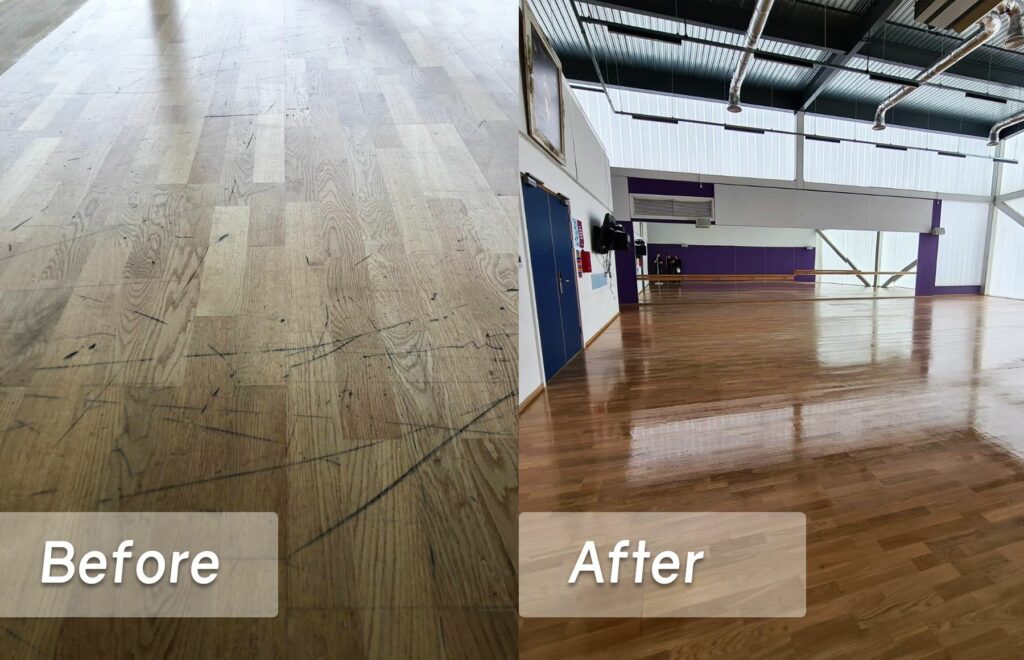 We offer Protection, Maintenance & Aftercare Services which help to preserve your Sports Hall, Studio or Village Hall, maintaining your floor system and surface throughout its life cycle.
Every floor requires regular Maintenance & Aftercare, not only to preserve aesthetics, but also it's performance characteristics. Failure to do so can lead to deterioration of the playing surface, potentially making it slippery and unsafe for users.
Scrub & Re-seal
This process includes a chemical clean to remove contaminants that can build up over time, causing the floor to become slippery. DYNAMIK mechanically scrub etch the surface to create a key, in preparation for new lacquer seals to be applied.
Sand & Re-seal
This process allows the wooden floor to be taken back to the bare timber surface, removing any old lacquers or painted lines. The floor is left with a smooth finish ready for the new applications of seal and line markings.
Polyurethane (PU)
This process allows for the refurbishment of your existing Polyurethane sports floor, whilst reinstating the required slip resistance. We have two options available dependent upon the condition of your existing surface, our PU Colour Coating Re-application and our PU Re-coating and Repair System. These options also allow for the updating of line marking and Logos and also provides the opportunity to totally individualize your facility.
More information about our Polyurethane systems.
Line Marking
This process is a vital component of a sports hall floor. DYNAMIK install line markings to your newly installed surface or re-apply line marking to existing surfaces to freshen up faded or worn lines.
More information about our in-house line marking service.
Floor Protection
In order to maintain your sports floors playing characteristics and prolong its life, a surface protection should be considered. We offer two solutions: DYNAMIK Giant Carpet Tiles or DYNAMIK Vinyl Protection for the required protection of your sports floor when used for non-sporting activities.
More information about types of Floor Protection.
Replacement
There will come a point in time when your sports floor will have reached the end of its useful life and a full replacement will be required. We can provide you with the necessary help and advice in order to obtain a replacement floor that meets the requirements of your facility and the demands of your users. Our DYNAMIK Komfort Plus and DYNAMIK Komfort Elite ultra low profile systems are particularly suitable since they can be laid over your existing floor surface thus reducing installation time and cost. You will also have a floor that meets the latest EN 14904 regulations and is Sport England & ESFA compliant.